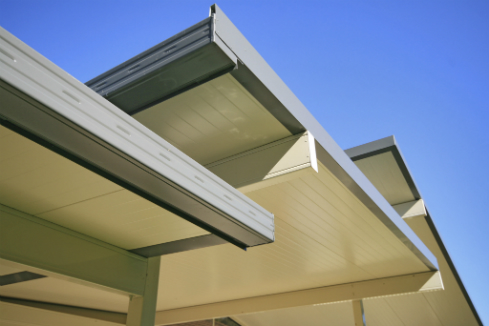 How Roof Materials and Design Can Affect Energy Efficiency
Covered outdoor areas are popular additions to homes, allowing more space for entertaining or for the family to simply spread out. Indoor to outdoor spaces feature in many of the designs coming out of the big building companies, but what if you want to add one to your existing home? And how can you make sure your new space will be energy efficient?
It is possible to create a new space that provides extra room, while still being energy efficient in these days of rising power costs. It's all about the design of the roof, and the materials you use.
Using energy efficient roofing materials and designs can decrease your ongoing power costs considerably, while at the same time increasing the comfort factor of the space.
Roof design
When it comes to roof design, the pitch of the roof can help increase the natural ventilation and keep the space cooler. Vents can also assist in letting heat escape, and can be installed on either pitched or flat roofs.
Gables also offer increased ventilation, due to the height of the pitch being well above average head height. A flyover roofline is another alternative. With this design, the roof is higher at the outer edge than it is nearer the house. This means the roof requires minimal supports, and there is a broader area to catch a breeze and maintain airflow through the space.
Roofing materials
Insulated roofing is a key element of energy efficiency for an outdoor space. After all, you wouldn't consider building without insulation when it comes to the roof of your house, so why leave it out when you get to your outdoor space? Insulation is particularly important if you're building a glassed-in extension. Consider what an efficient solar conductor the sun can be – your conservatory could turn into an oven on a hot day!
Insulated roofing panels have an integrated insulation layer that offers protection from heat, cold and noise, so that you can maximise the comfort of your new space. The additional temperature control from a new outdoor space that's built with energy efficient roofing can flow on to your house too, with that wall of the house shielded even more from the weather than it was prior to the build.
In addition to energy efficiency, insulated roof panels can offer a completely integrated finish between your indoor and outdoor space, with a range of colour and profile options available.
There are so many different ways to achieve a liveable outdoor space that increases your enjoyment of your house, and contributes to its value and appeal. Marry good design with the right materials, and you can have an energy efficient solution to your space requirements.