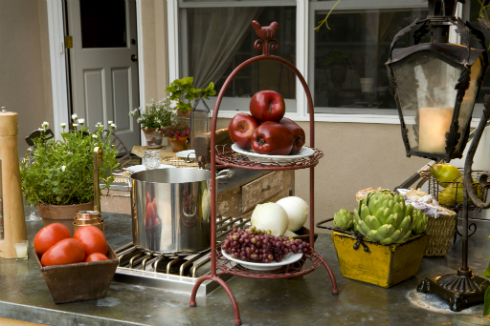 Building the Perfect Outdoor Kitchen
Summer or winter, there's no denying that Australians are outdoor people. Our houses reflect that more and more, and adding an outdoor kitchen to your place is one way to add both functionality and value to the property. You can keep it very simple or go for a really luxurious set-up, depending on your taste, needs and budget. Here are five tips to inspire your project.
1. Planning and architects
Don't do anything before you find out from your local council what you can and can't do when you're looking at creating an outdoor space. Adding onto your house or building a free-standing structure on the property may need to go through an application process. Consulting with an architect who does lots of house extensions can be a useful starting point so that you're clear on the kind of addition you want to make.
2. The space
First up, think of the area you need. Is it going to just be a kitchen and eating space, or do you want to use it for general outdoor living as well? Look at the available space you have and consider the options you have within that. That may also dictate whether you look at an open space, or different options for a fully enclosed outdoor room.
3. Comfort
Obviously, considering the size of the space is part of making it comfortable. However, different styles of outdoor roofing options can make an enormous difference to ventilation and shade, depending on the orientation of your house, and your average weather conditions. A flat skillion roof may be the simplest option structurally, but it could limit your choices for ventilating the space as well as the overall height. A pitched roof gives you height, and can allow for different ventilating solutions. A combination of the two could be the compromise that works for you.
4. Style
Take a good hard look at your house, and consider what style of addition is going to work best to fit in aesthetically. Does your roofline already have pitched gables? If so, a gabled extension could be a logical approach to stay within the existing style. A gable can also add excitement to a house with a simpler roofline. Think about colours and trims as well, so you can keep the new space integrated with the existing structure.
5. Fitting out
There are lots of options for your final fit out these days, with the outdoor kitchen becoming a more common feature in contemporary homes. It's possible to purchase free-standing units that comprise various barbeque cooktops, deep fryers, wok burners, bench tops, sinks and small fridges that can be rolled into place and hooked up to water and power sources. You can also have a fully fitted unit installed that ranges from the simplest of combinations through to a duplication of your indoor kitchen. You'll need to think about your lifestyle, entertaining needs, and how you like to use your living spaces to choose the best option that fits your budget. Similarly, there are a myriad of furnishing options for seating, tables and accessories.
With all renovations and additions, there is stress and upheaval. Doing your homework before you start should ease that to some degree and help you create your new space without any major disasters along the way.