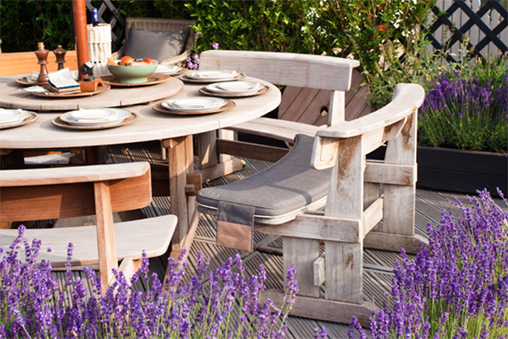 8 Creative Ideas for an Outdoor Dining Table
The furniture you choose for your alfresco room is just as important to the overall ambience of your home as the pieces you have carefully selected for the interior.
The big difference between indoor and outdoor furnishings is the impact the weather will have on them. But when entertaining under patio covers this is much less of a concern, especially with the addition of café blinds or a sidewall for windward protection.
The dining table and chairs are the focal point of any outdoor room because most of the chat and banter happens right there, over a few glasses and some fabulous food.
Of course, your choice depends on your personal style, but here are eight ideas for your dream outdoor dining setting.
Modern concrete table
A solid concrete table with a matte sheen finish or a glistening polished surface is an elegant contemporary elegant choice. You can order one that can easily seat 12 or even 16 people. Teamed with comfortable rattan chairs, or even padded concrete stools or benches, a concrete table is built to last.
A slab of marble or stone
Seat your guests around a solid block of polished marble, onyx or some other dramatic stone. Not only do tables made from these materials look beautiful, but they are also virtually indestructible. There is a huge range of colour shades, depending on the type of stone you choose. Stone chairs with comfortable cushions can complete the look.
Classic Glass table
A 1.5cm thick toughened glass topped table with a huge expanse creates a strong designer look.
Glass comes in a variety of colours from clear to tinted reds, olive shades and deep blues. You can choose the colour to complement your garden. Wooden benches, comfy old chairs or slick modern aluminium café chairs work well with a glass top table.
Aussie Hardwood
A slab of oiled Australian hardwood makes for a stunning outdoor dining setting. These fabulous tables come in many designs. Using salvaged Australian hardwood timbers like Red Gum, Jarrah, Stringybark and Tasmanian Oak – they will last for decades with regular oiling. Hardwood tables are perfect in a native garden, but work equally well overlooking the beach or your home swimming pool.
Repurposed old wood
With a handmade aged timber top your dining table will be one of a kind. No two tables have the same pattern. Size and shape are your choice, but these tables are planks worked together to create a unique centrepiece. Think old barn door, or even the siding from an old wood shed. This type of dining table will add visual drama to an outdoor room.
Heavy metal
For a really modern, sleek look, a stainless steel table is completely weatherproof. Show it off with high backed wicker chairs. A wrought iron table doesn't have to be of an old fashioned design, it can be crafted in a stylish contemporary look, and a glass or wood top on a dramatic metal stand makes a bold statement.
The Extendable
Make room for eight to sixteen people simply by using your extension table. These are best in hardwood, but a teak table with an extension is something even your grandkids will treasure for years to come. You can also find extendable glass and metal tables.
A teppanyaki table
Group your guests around your outdoor grill with a square or round table. Set it up like a teppanyaki table and serve right from the grill top to the table top. You can use wood, metal or stone to create your surround table. This round-table approach means no one is left out of the conversation.
When you set out to create a distinctive style under your patio roof, think of the table first and enjoy.