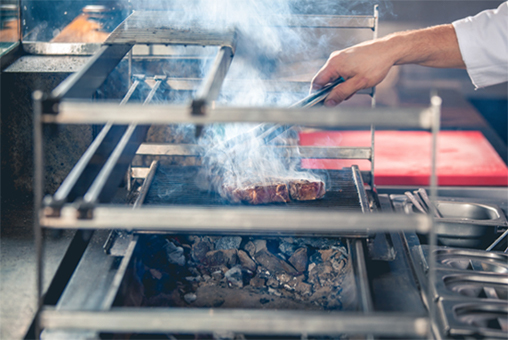 8 Appliances to Save Your Barbecue on a Rainy Day
When rain falls on an afternoon barbecue, most people tend to pull up stumps. "There goes the barbecue," someone inevitably says. But the truth is you can still achieve a grilled barbecue taste inside the house, in your outdoor room, or under your patio or pergola roof.
An indoor grill will never match the flavor of cooking over coals or hardwood, but there are ways to make your barbecue experience taste like you've been cooking over burning embers.
Here are eight smart 'indoor/outdoor room' barbecue ideas to create an earthy barbecue taste.
The lava rock grill
This integrates electric or gas cooking with a bed of volcanic rock. This rock has quite extraordinary properties and heats to an optimum temperature of 150C in just a few minutes, with the lid down. Once at the right temperature, the heat will stay stable, and you can turn off the gas or electricity and start cooking.
With lava rock cooking, the meat retains its flavor and does not dry out. It also saves on gas and electricity. These grills come in a range of sizes and have been used previously in large racks for charbroiling. Now they are available in much smaller and even portable units. Most importantly, there is a smoky grilled flavor to what you put on your plate.
The lava rock grill converter
This is a new invention that allows you to convert a standard propane gas grill to a lava rock gas grill. The idea is that radiant heat from the rocks allows the food to be cooked without drying it out. It's easy to use, you just need the kit. This video explains how it works.
Smokeless charcoal grills
These are now coming on the market with new technology like USB connections for power and have been shrunk down to a portable size.
Fan-assisted means that the charcoal heats up quickly, and you can monitor the temperature by slowing or speeding the fan. The principal benefit of a flame fanned grill for a barbecue in your outdoor room is that the manufacturers are saying this new design is 95% smoke-free.
Electric grills
Electric grills have been around a long time, but with ever changing technology and the diverse tastes of what we barbecue, the results are now so much better.
Smoker boxes
You can add a stainless steel smoker box to your gas or electric grill. This uses fragrant wood chips and allows you to smoke while you grill. You can add chips as you're cooking to keep the flavour going.
Grill bars
Using the right grill bars is crucial to the taste, no matter what is powering your heat. Steer clear of chrome-plated steel as it wears out much too fast and doesn't add anything to the cooking. Perhaps the best material is cast iron, because it heats up quickly and if it has been seasoned properly will be naturally 'non stick'.
Bluetooth control
Yes, smartphones have extended their influence to barbecues too. Have your phone tell you when the meat is done with a Bluetooth connected thermometer. Just set the temperature and continue to enjoy the party hands-free.
Create a 'barbecue kitchen'
All these ideas are easily incorporated into an outdoor kitchen with everything you need for barbecues. Choose your gas, electric or lava rock barbecue and surround it with a bar fridge, benchtops, a sink, lighting, and a music system.
To really enjoy all this you need to install an outdoor room, patio or pergola, made with quality roofing materials. For roofing supplies and assistance with installing your new outdoor entertaining area, call Shademaster.