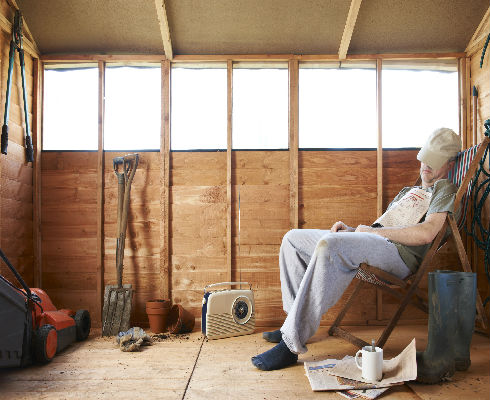 Creating a Man Cave Without Breaking the Budget
A man cave is a place where you can hide away by yourself, or chill with your mates. It's a retreat for watching sport, playing eight ball, or just lounging around. While your man cave can be as elaborate as you want it to be, creating a man cave doesn't have to strain your resources if you have a limited budget.
Choose your space
The best man caves begin as basements, spare rooms, or old sheds. But if space in your home is already a bit squeezy, and your shed houses your power tools, consider converting an existing outdoor space. There are many outdoor roofing options that can easily turn a veranda or patio that doesn't get a lot of use into an outdoor room with plenty of space.
Tip: If your man cave is being created from an outdoor room extension, remember to insulate during the building process. Insulating the roof and walls not only helps your space maintain a comfortable temperature all year round, it also helps soundproof the area. The last thing you want is to upset your neighbours or spouse with late night sports programs or noisy card games in the wee hours!
Consider colour
A paint job is an inexpensive way to start making your man cave look the part. Try painting the walls of a smaller room in lighter colours to give a sense of space. On the other hand, if your man cave leans more towards a relaxed bar and home theatre, then darker coloured walls will help create the atmosphere you're looking for.
Dress it up
Man cave rules mandate every man cave must have a theme! A theme will give your space personality, but you don't need a brainstorming session to figure it out. Simply think about what interests you and go with that. For example, if you're a movie or sports buff, dress up your space with posters and memorabilia. Over the years you've likely collected a few bits and pieces that reflect your interests, but if you need more, ebay is a man cave decorator's dream. The website is full of reasonably priced items, from unique glasses for your bar, to posters for your walls.
Man cave centrepiece
Another must-have item for your man cave is a television. You're probably thinking big, and even curved in the latest trend for watching sport.
But take a moment to consider the size of your space and the cost involved in purchasing your dream TV.
Man caves are often spaces filched from other spaces, such as the end of a garage or a veranda that has been covered in, so do you really want to be sitting three feet away from a screen so big you have to tilt your head to see all of it? A TV that is in proportion to the size of your space is a much more comfortable and economical choice.
Furnishing your space
When it comes to furnishing your man cave, forget flashy and new and think function and comfort. Your man cave is where you want to kick back and relax, so furniture that has already been broken in is the perfect choice. Think about repurposing older items you might no longer need in the house. Comfy fleece blankets featuring your favourite sports teams are inexpensive, and thrown over an armchair or couch can cover worn patches and give older furniture a new look.
Creating a man cave can be a fun and exciting project; so don't hesitate to ask your mates to give you a hand. You'll know who to invite first! And remember, whatever your style and budget, create your man cave with personality and purpose, and make it your own.