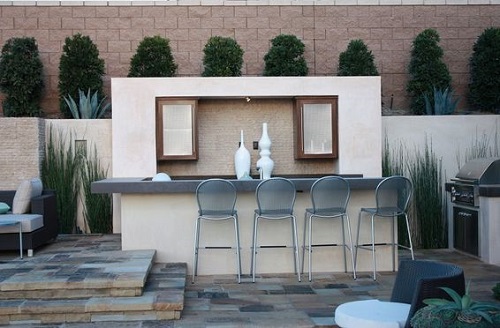 10 Contemporary Art Ideas for your Outdoor Room
If you have an outdoor room, or are planning to create one, it's time to consider how you can make the space come alive. One time-tested way is with unusual and dynamic art, and here are ten ideas to get you started.
1. Turn a wall into a canvas
Put in some shelves with a few pots of paint or crayons, add some brushes and let your imagination fly. This is especially wonderful for your kids; just tell them that this is the one wall of the house that they can decorate, no holds barred. Once the wall is covered, simply paint over in white and start again.
2. Add visual interest with sculpture
Most sculpture is made from heavy, durable material like stone, metals and wood. They have a real presence, and if you have a large outdoor room one or two of these dramatic pieces can lift the ambience and stamp your style on the space. You could also bring in an old spinning wheel or a mosaic stone bench as sculpture that has history and functionality respectively.
3. An easy-care green wall
You have seen them advertised, but have you seen one installed and flourishing? They truly are delightful additions to any outdoor room or garden. Today, green wall options are self-watering and need only minimal care, but if you are a keen gardener, these walls offer so much variety. You can plant and re-plant with ease incorporating herbs, vines and flowers.
4. Decorative plates and earthen wear
Deck the walls with unusual items. Try a wall of old plates or other trinkets bought at the local market or fair, choose ones that go with your colour scheme and that have designs that fit the mood of your room.
5. Creative partitions with objects
Make sculptural partitions to close off areas using pieces of old driftwood, or from new materials. Use furniture to make clear statements about the purpose of each defined space – lounging, entertaining and a fun area are just some of the ideas you could consider.
6. Wall hangings
Hang hand-woven rugs or kilims, or take that batik from your trip to Bali and drape it over a bamboo pole. Wall hangings in every style will work, from woven Australia wool hangings to American Indian feathered shawls.
7. Living art with aquarium
An in-wall aquarium for tropical fish is a bold statement and can add light to the room in the evenings. A little high in maintenance, but the effect of moving, 'living art' is stunning.
8. Artwork makes a statement
Perhaps of all the interior design work you do in your outdoor room, paintings should top the list. The trick here is to choose artwork in simple frames. Hang the paintings at eye-level, just like an art gallery. Trawl the local galleries or make contact with local artists to find pieces and support the art community in your area.
9. Painting nature indoors
The opportunities are broad with paint, texture and even moulding all coming into play when deciding on wall murals. Paint a classic English garden setting by depicting a stone wall with climbing vines, or use moulding to add columns, blank windows and cornices to a Roman garden complete with a classical sculpture.
10. Roof styles play a part
There are many materials and roof styles available that can add ambience to a space – roofs are themselves a kind of modern art! Gabled or skillion roofs are the most popular, but a combination of the two provides a wow factor. Flyover roofs are also an option, providing high ceilings and minimal posts and frames for a clear view out to the garden.
However, these and other roofing style solutions for outdoor room extensions, pergolas and patio roofing must be installed by a reputable provider with years of experience. Not only do you want value for money, but you need expert advice from a dedicated roofing contractor like Shademaster.