Single Skin Roofing
Superior performance, great aesthetics
and limitless design solutions.
Two profile options
Customise your look with the choice of 2 Shademaster Single Skin profile options for your new undercover area.
flat profile
Replicating a flat 'ceiling' appearance, this profile allow light to easily reflect around the covered area. Flat profile is available in high gloss & 3 low-gloss ceiling colours.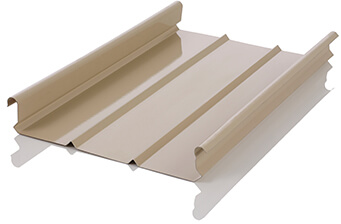 w-pan profile
Robust and long lasting, the strong W-Pan profile creates outdoor undercover areas built to last. W-Pan profile is available in a high-gloss finish.
Key features
Endless designs. Engineered to last. We've got you covered with quality tested roofing that is designed and built for Australian lifestyles.
CONTEMPORARY COLOURS
Colours are inspired by home exterior trends. Complement your home with a choice of over 20 colour combinations in Flat and W-Pan panel profiles.
VERSATILITY
Suited to a wide range of traditional and modern designs. Your Shademaster consultant will design a custom option for you.
FUNCTION
Each panel features a clipping system that locks the panels together, forming a virtually undetectable weather-tight seal.
MINIMAL MAINTENANCE
A durable and easy to clean finish is achieved with the prepainted steel from COLORBOND®.
CONSTRUCTION
Customise your outdoor roof to best suit your surrounding home environment. Selecting from steel and aluminum single skin roofing.
CLEVER LIGHTING
Integrated single skin roofing with Shademaster Naturelite translucent panels to allow natural light to filter through.
MADE IN AUSTRALIA
Crafted in Australia by Bondor Australia with over 60 years' experience in and expertise in producing premium, high quality products.
OPERATIONAL TESTING
Engineered for Australian conditions (to NCC guidelines) and compliant with Australian Standards. The Flat & W-Pan profiles have been independently tested and approved for cyclonic regions.
PEACE OF MIND WARRANTY
We've got you covered with a 10 year warranty on all single-skin steel roofing, and an extended 15 year warranty on single skin aluminum roofing.
Roof colours
Single skin roof panels are available with a choice of 23 colour combinations.
Select the roof colour swatch and the corresponding ceiling colour underneath to find your perfect match.
View our colour selector to see the various colour combinations demonstrated on a roof.
Botanic
80 Gloss
Ceiling colour
Chardonnay
80 Gloss
Ceiling colour
Granite
80 Gloss
Ceiling colour
Joadja
80 Gloss
Ceiling colour
Mood mocha
80 Gloss
Ceiling colour
Nocturnal
80 Gloss
Ceiling colour
Red earth
80 Gloss
Ceiling colour
Rock Salt
80 Gloss
Ceiling colour
Thundercloud
80 Gloss
Ceiling colour
White Bay
80 Gloss
Ceiling colour
Yalumba
80 Gloss
Ceiling colour
Colour sample requests
Fill in your details to have
colour sample cards mailed out
Thank you for sending through your details.
One of our representatives will be
touch with you soon.