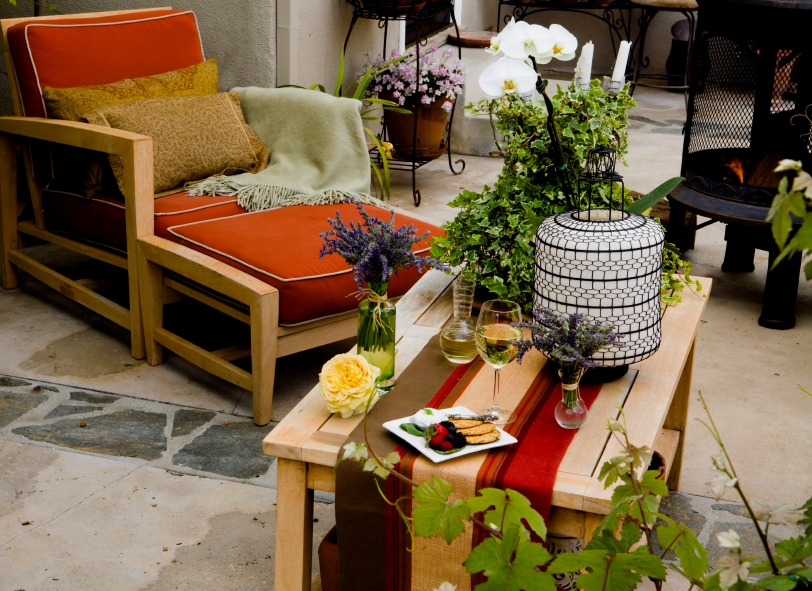 Top Tips for Styling Your Outdoor Room
When you build outdoor rooms, you have a couple of options in how you approach the décor. You can either work with the existing style of your house and garden to create seamless transitions between different zones, which can greatly enhance your sense of space. Alternatively, you can create something that is deliberately different – think very modern extensions on older houses – to take yourself, family and guests into something new in your outdoor room.
An effortless link between inside and out
If you go with the first option, choose like colours and materials that will relate to your existing décor, as well as provide a link to the outdoors.
For traditional style in an older house, think wrought iron accessories or wicker (chairs, tables, plant stands), florals and stripes (alone or mixed) in your soft furnishings, old style indoor plants, and colours that pick up the tones in your garden.
If your home is more modern casual, consider a 'resort' look – bamboo and timber furnishings, plantation shutters, palms and ficus that will tolerate the indoors, bright colours and mixed patterns, and large candle stands with chunky candles or scented oil burners.
Or why not consider Scandinavian retro? You could do a beach look, especially if you have a pool. Bleached timbers, bright colours and white for soft furnishings, palms, lightweight throws, driftwood and other 'found' objects as accessories, and soft drifting curtains.
And for something completely different
When you go with the second option, you have, effectively, a clean slate. You don't need to think so much about the rest of the house when you get to the styling stage. Here are a couple of options to consider:
For a clean modern look, keep it simple – stone, polished timber, leather, glass, minimal accessories (clutter-free), neutral colours, and sculptural indoor plants like Dracaenas. This approach can be very effective at bringing the outdoors in, as the room itself makes a very clean, simple impression.
The unashamed garden room – designed deliberately to create a link to your garden. Use wicker, natural fabrics, stone, lots of indoor plants, big windows with no dressing – you don't want to impede the outside view. Think along the lines of a conservatory, with just a touch more comfort.
Ultimately, it comes down to your personal style. Outdoor room extensions are just that – extensions to your existing living space. Whether you have a deliberately styled space or something eclectic that's pulled together based on your personal style and existing décor, it needs to be functional, but most importantly, it needs to be a space where you like to spend time.
Using colours, materials and accessories that you enjoy will help you create that. Whether you tie it in with the existing décor or opt for something completely different, as long as you choose things that you love, there will be a sense of continuity as people transition between the different zones.