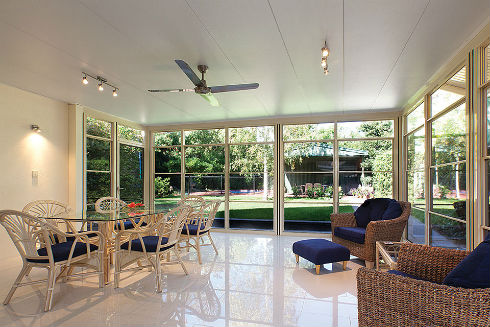 Increase Your Home's Appeal with an Outdoor Room
Watch any home improvement show and you'll see that well designed outdoor spaces have the potential to improve your lifestyle, give you more room to move, and might even add appeal and value to your home by creating extra living space.
With clever planning and the right outdoor area roofing, you can create an outdoor room that is a comfortable sanctuary all year round for entertaining, and just relaxing with the family. And when it comes time to sell, the ability to entertain with style beyond the patio door will really appeal to many buyers.
Adding an outdoor room to your home doesn't have to involve a lot of work on your part either, you can decide what you want and then hand your dream over to the professionals to execute. To help you decide on the design of your new outdoor room, here are a few things to think about.
Planning
Two major considerations in the initial planning stages are proportions and privacy. Don't make the mistake of making your outdoor room so large it takes over your yard. Your outdoor room will also never feel comfortable if your neighbours can see right into it, so you may need to consider things like privacy screening.
Before you get too far into the planning, think about the additional features that you might want. In the right area, high-end items like a pizza oven or even a whole outdoor kitchen can give you a big return on your investment when it comes time to sell.
Transition
Your new space needs to complement your existing home. Whatever style of room you choose, for it to work you must have a seamless transition from inside to out – your new outdoor space should be a visual extension of your indoor space. What you don't want is a sleek and modern living space flowing into a rustic-themed courtyard, for example.
Think about your existing indoor finishes, including textures, colours and the overall style, and try and incorporate some of them into your outdoor room.  One of the easiest ways to blend indoor/outdoor areas is to extend the indoor flooring into your new space.
Another trick is to reduce the physical barriers between the two spaces. Installing stacking or bi-fold doors will help create one large, flowing space.
Orientation
Most outdoor rooms are an extension of an indoor room, so you won't have a choice when it comes to positioning. This means you need to consider overhead weather protection and outdoor roofing options, as well as privacy.
Shademaster design consultants can create and install a range of outdoor roofs. These watertight roofs can be custom designed to perfectly fit the requirements of your outdoor living space, and complement your home's existing roofline.
Privacy
Privacy requires a little more thought. You can use privacy screening, and also design the interior of the space in a way that maximises your privacy. Visualise the placement of eating and lounging zones, and stand outside to see how they look, and whether your neighbours can see absolutely everything!
Also take note of where sunlight and shade fall through the day, and whether you have any view to take into account, and plan the placement of tables and chairs accordingly.
Renovation boom
According to a report in the Australian Property Investor magazine, data from Master Builders Australia predicts home renovations are expected to really take off during the next three years.
So consider embracing the trend by planning an outdoor room. Add a durable, weather-tight Shademaster roof to your new area, and you'll have a feature that your family and friends can enjoy now, and a beautifully designed outdoor living space that will grab buyers' attention when you're ready to sell.